WritingEssay.co.uk Review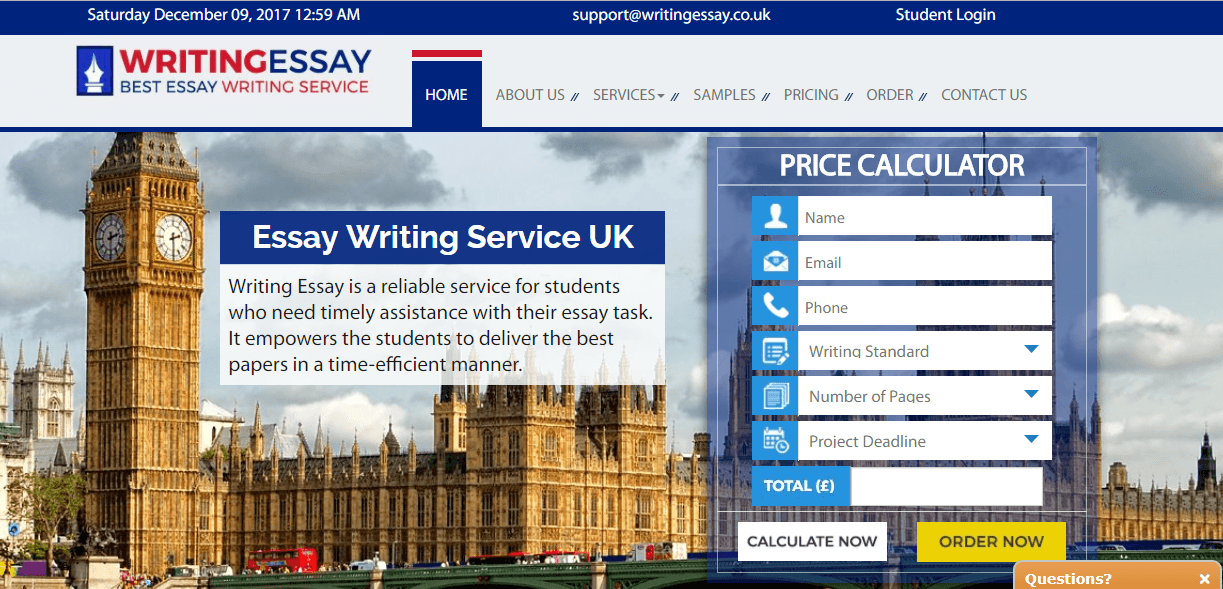 Quality

Prices

Customer Support

SUMMARY
To say that your company is the 'best essay writing service' is an enormous promise, and an even bigger challenge to complete. In order for a company to be the actual best out of the thousands of writing companies online, they'd have to possess all the great features like affordable prices, a variety of services, excellent customer support, and high-quality writers.
Whether writingessay.co.uk has this all or not, you are about to find out in this review. Here are the key promises this company should deliver on:
100% non-plagiarized work
100% on-time delivery
100% money-back
Joseph Soliz: My friend told me about this company and I immediately ordered from them. If I'd looked online, I would know that they are not as good as they say, so I ended up paying a fortune for a below average quality paper.

Michelle Dunn: My experience with this company is mostly negative, the only positive thing was the customer service. Their prices are not very high, but the 'quality of content' is something I'd never want to see again.
Types of Services
The name of the service means that they actually write essays, but this is the only paper they offer. This limits students more than any other company, since you cannot possibly use this one service to get all your papers from. If the quality and prices were good, you would still have to order your other papers elsewhere.
Prices and Payment Methods
Five deadline options are not so bad of a deal, since the furthest deadline is 10 days or more. However, the shortest deadline with this service is 24 hours, which means that writingessay.co.uk is not a service you can contact if you have an urgent deadline.
Prices here do seem affordable, starting at only £10.95 per page for a Basic standard quality paper and a deadline of 10 days. The other options customers have are premium writing standard and platinum writing standard, making for the highest rate of £18.95 and £21.95, respectively.
This seems like an excellent bargain and a solid price for quality content. Customers can use the major credit cards to make a purchase.
Discounts and Special Offers
No discounts? Most writing services on the web have at least a loyalty program to award the returning customers, as well as a first-order discount that allows them to try out the company at a reduced rate. With this service, there seems to be none, not even a bulk discount for when you order a larger paper.
When we found no information about the discounts, we immediately got in touch with the customer service agent. He said that there are only discounts for 'returned clients', but did not want to specify this information, saying that we will be informed once we become a returning client.
Quality of the Paper
Unfortunately, the quality of the essay we ordered here ruined the impression we got about the service when we saw the prices and website design. This company offers only one type of academic papers, and still fails at providing the best service they offer.
Our paper was clearly written by a non-native English writer, and from what we could see, even the agent on the live chat was not very fluent in English. Our assumption is that this company works with non-native English writers who cannot possibly meet the expectations of customers.
Is the Site Easy to Use?
The website is extremely easy to navigate and has an excellent blog and samples page. Even so, the samples page here is filled with good content, while the actual content we got was nothing like the one we read there. So, the content on the website is misleading.
Customer Support
As we said, we did contact the customer support agent, Alex, and asked about the discounts. He was not very pleasant to talk to, since he provided us with short 'yes' and 'no', or gave partial answers to our questions, such as the answer ' Discounts are available for returned clients'. After a while, we understood that the reason for this was that the agent was not really fluent in English, since he made numerous mistakes while talking to us.
Once we got in touch with him regarding the paper we got, he rejected our request for a free revision.
Conclusion
Writingessay.co.uk is not a company we can recommend for your academic papers. The writers here lack expertise and skills to write quality papers, which is something we confirmed by ordering from the service. The pricing is fair and realistic, but the lack of discounts and somewhat bad customer service are a huge disappointment.