BritishAssignmentsHelp.co.uk Review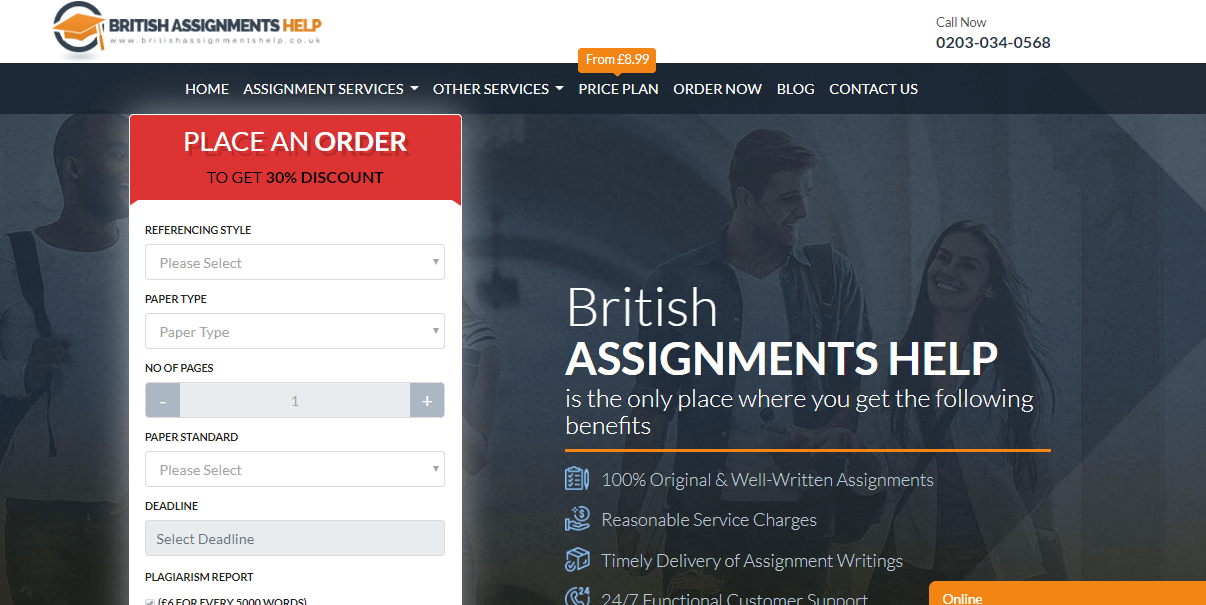 Quality

Prices

Customer Support

SUMMARY
At first glance, britishassignmentshelp.co.uk looks like a highly professional service due to their great website design. However, after some careful evaluating of all the features, we discover what you would call 'the company's dirty little secret'. This secret does not indicate that the company had bad content or is one of those scam services that do not deliver the papers, but it says a lot about the company's marketing strategy and tricks.
For starters, let's have a look at the key features they offer:
100% original and result-oriented
Affordable and economical prices
100% money-back guarantee
Work delivered within deadline
David Webster: Don't trust britishassignmentshelp.co.uk. You may like the prices, but you won't like the writers or the customer service. They give out stolen content at low prices and do not even revise it if you find out.

Lorna Elison: I used this company a few times. Their prices are great, and I cannot really afford anything more than this. If I could, I'd go for another company because the content here isn't great, but when I have a very short deadline and no time to finish everything, average quality is sufficient to help me.
Types of Services
If you take a look at the company's website, you might get the impression that this service offers only assignments, essays, coursework, dissertations and research papers. However, when you enter the ordering form, you will find that there are several other choices. Regardless, the range of services offered is still very limited with this service.
The number of services offered is eleven, and according to the list, this company does not even provide some of the most popular papers such as term papers and articles. This is very concerning since most students prefer a company that can deliver all the papers they need instead of only a few of them.
Prices and Payment Methods
Four deadline options are also very limiting, especially since the shortest deadline offered is 24 hours. However, the prices here are some of the cheapest we have seen on the market, which makes the company an excellent choice for those that fight a very limited budget. That is, of course, if the quality of papers is good.
The starting rate is £8.99 per page and ranges up to £27.99 per page. There are three quality options to choose from: 2:2 standard, 2:1 standard, and first-class quality. Payments are done via PayPal, credit cards and the Western Union.
Discounts and Special Offers
In addition to the first-time discount of 15%, this company offers some limited special offers, depending on the period when you decide to order. This is actually the only discount offered, since the company mentions no bulk discounts or a loyalty program.
While you can actually get a bulk discount by discussing this with the customer service, the lack of loyalty program is what concerns us most. A company simply cannot provide benefits for new customers and forget them once they become returning customers.
Quality of the Paper
Since the prices were excellent for a student's budget, we decided to order a research paper from this service. Interestingly, this is one of the very few papers they provide, and it wasn't even added to the list of choices in the ordering form. We chose the option 'other' and wrote down the specific requirements, asking specifically for a research paper.
Despite the fact that the customer service confirmed they deliver research papers, the writer who worked on ours didn't really seem to have an idea of what a research paper should look like. Instead of the research paper format and writing style, we got what seemed like a badly written essay, without any proofreading of the numerous mistakes in the content.
Is the Site Easy to Use?
Here is the point where we tell you the secret – if you look really, really close, this website is exactly the same as ukwritingexperts.co.uk and britishassignmentwriter.co.uk! The design of all websites is different, but all the features are the same. Starting from the exact same price list and services list, to some details such as the live chat design and conversations with their agents, this is definitely the same company.
Even though this is not the level of a scam of other dangerous writing services, it still is the scam. Trying to sell papers from various different websites is not illegal, but it certainly makes for a tricky and suspicious marketing strategy.
Customer Support
The customer service at britishassignmentshelp.co.uk is excellent. They accepted our request for a revision and were polite during the entire revision period. Still, the writer did very poorly even with the second revision.
Conclusion
Britishassignmentshelp.co.uk is a cheap writing service, but not one we would recommend. Not only this website contains false information and is just one of the many websites created by a single company, but their writers are actually bad at doing their job.