LawTeacher.net Review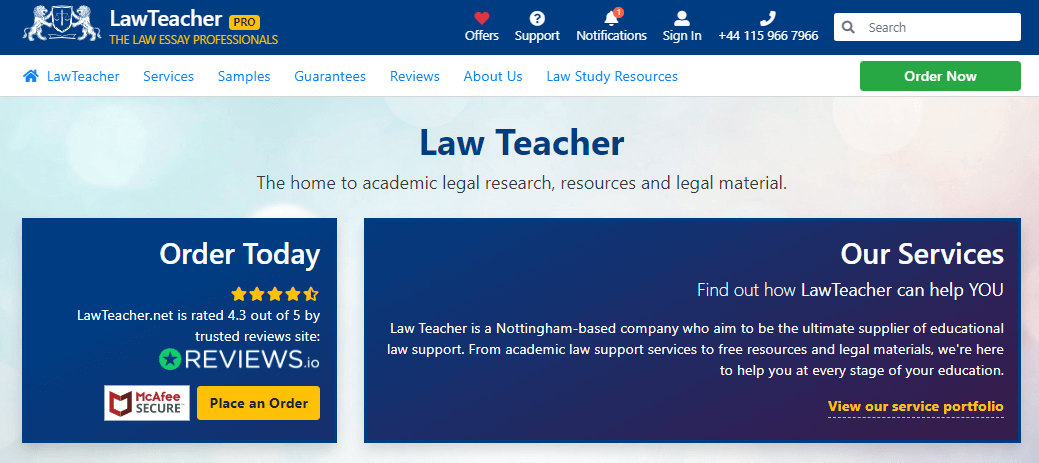 Qaulity

Prices

Customer Support

SUMMARY
Pursuing a legal profession is tough. As a student, you have to face several ordeals like the pressure of examination weeks, research papers but at the same time, you would like to remain calm and relaxed since you are still young. To lead a balanced life, students are seeking help and guidance to the best UK essay writing service. Today we decided to check if LawTeacher.ne is one of those.
Unlike other writing services, Law Teacher is more focused on custom law essay writing services. The main difference between other essay writing companies is that Law Teacher specializes in law subjects and most of their writers have at least 2:1 degrees.
Let's check what LawTeacher has to offer to assist the students.
Services Offered
LawTeacher is currently offering mainly three types of services:
Essay;
Dissertation;
Other.
Aside from essay writing service, which is obviously under Essay Services, LawTeacher.net review indicates that they are also focused on assignment writing service which aims to assist the students in their professional legal and academic studies. The site also provides coursework writing services and essay outline/plan. The last is a major help to students especially if they are stuck with where to start or end since the outline will show what will be the exact content of the essay and how will it be structured.
Law Teacher also offers dissertation writing services. However, in addition to that, it assists in creating a dissertation proposal, topics, and titles. In providing topics and titles, the students may be inspired to craft a thorough and clear proposal, be able to complete a detailed literature review, and finally, be able to write a high-quality dissertation.
Speaking of literature review, it's one of the unique offers of Law Teacher where the experts provide analysis and detailed examination of the literature and knowledge about a specific topic. The goal of this review is to assess how well the student knows the topic with the help of various cases, journals, and books.
There are still other services that Law Teacher offers aside from Essay and Dissertation. Some of these are the following services:
Exam Revision
Report Writing
PowerPoint Presentation
Marking
Although they all fall under Other Services, they are all essential in helping the student attain higher grades and become more confident in pursuing the legal profession.
Payment Options and Pricing
The Law Teacher review on pricing varies. Some who availed their services are satisfied with the fee, but others complained about how expensive the service charges are.
For example, a 5-page essay (around 2,000 words) that needs to be submitted within a week for Criminal Law catering undergraduates who wish to receive a grade of 75% and above will be charged £643.
However, if you need it next month and you only want a 50-59% grade, then the charge will only be around £222. Even if you used this same timeline and grade requirement for a different subject, the charge remains the same.
Based on this, we can say that the price varies depending on several factors like:
Grade required
Length
Delivery time
Therefore, if you want to pay a cheaper fee, then lower the grade required and provide a longer duration for the delivery period.
When it comes to payment options, the site is flexible since it offers bank transfer, MasterCard, Visa, WeChat Pay, Alipay, and even finance, which is available with Payl8r.
Discounts
In this Law Teacher review, we also looked for ways on how the student can save money while using high-quality writing services. One area is that some of their services offer a lesser price for undergraduates compared to Masters. Also, under payment options, the student may apply a code to get discounts, which he can get through coupon sites. Discounts and prices can also be negotiated with the help of a live chat agent.
Paper Quality
Based on Law Teacher reviews online, we found out that most customers are not satisfied with the quality provided.
We decided to order an essay to see if that's true. We gave all the instructions to the writer and waited 7 days for our essay in social law. We got it on time, but when we started reading it – we were shocked and very disappointed. It was very poorly written, with many grammar mistakes, it had no sense and was very difficult to read.
It seems that they need to tighten the selection of experts that will work on their clients' papers because instead of helping the students, they might get them in trouble or add more burden to their stressful life.
Website Usability
The Law Teacher website is straightforward and easy to navigate. The details inside are enough to provide information about the pricing, service offers, and ordering system. It is unlike other writing services' websites, which are confusing and too flashy.
Customer Service
There are several ways to connect with Law Teacher and one of the easiest is a 24/7 live chat agent in case you encountered tech issues or you have an urgent inquiry. If you are a bit shy and would like to browse through helpful articles that might answer your questions, Law Teacher has Support Articles option that can be found at the upper portion of the site. If you don't like to chat, you may call their UK toll-free phone number.
Final Thoughts
Based on our research about LawTeacher, we can say that this writing service cannot provide quality writing help. They might need to review their pricing and paper quality since it's pretty expensive especially for such second-class content. Aside from that, they also need to have an auditing or feedback system for their writing experts.
Based on all written above, we can say that Law Teacher is not for you if you want a quality and affordable essay writing service. Definitely not!