PaperTrue.com Review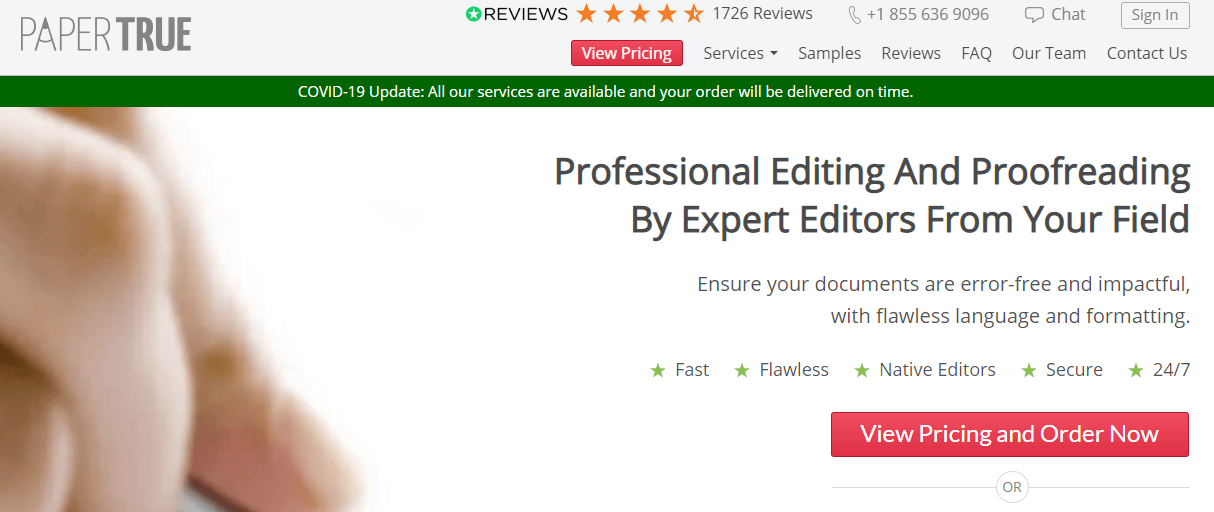 Qaulity

Prices

Customer Support

SUMMARY
PaperTrue.com is a brand new proofreading and editing service. We're happy to see more dedicated editing services coming out. It's a new trend in the academic writing industry. It's good to know that if you already have a paper, you can hire an editor to polish it up for you.
That being said, we should keep in mind that some of the best essay writing services UK also offer proofreading and editing help. The difference is that this company does not offer writing assistance. Only editing and proofreading. 
Is it good?
We were wondering about the same thing, too. We decided to submit a paper for editing, so we could complete this detailed PaperTrue.com review for you.
Customer Reviews
"They say that an editing service makes your content not only error-free, but improved in style, too. That didn't happen with this company. They only fixed the spelling."

William E.
"I wasn't too happy with the result. I specifically asked the editor to improve the references, since I didn't know how to format them by MLA style. Apparently, he didn't know either. The references were just as messy as they were when I submitted the paper for formatting and editing. What a waste of money!"

Lucia C.
Academic Services Offered
We followed our usual evaluating pattern for this PaperTrue review. First, we checked the list of services. The offer is limited to proofreading and editing services, but it's really good.
These are the categories of services available here:
Academic
Business
Job applicants
Authors
Students are mostly interested in the Academic category. It's available for various types of content:
Thesis
Dissertation
Essay
Research paper
Journal article
Literature review
Assignment
Report, and more
Before placing an order, you can check out a few proofreading samples that are available on the website. This was the first moment of doubt for us. These are not proofreading samples. They are comments and suggestions. The editors underlined a few issues and wrote comments on how the students could improve them. If you're hoping to get a paper that's ready to be submitted, it won't look like this.
Plus, the comments in these samples are rude. "Since Wind is not a title which you are consistently using in your report, there is no need to capitalize the word." Do you notice the passive-aggressive attitude here? It's not how a true professional would suggest improvements.
Pricing Model and Payment Options
Paper True sets affordable prices for editing. There's a price calculator that asks you about the word count. The type of paper doesn't make a difference.
If you have a paper of 250 words, the company offers a price of $15 if you choose the deadline of one day. If you want the editing process to be completed within 12 hours, it will cost $23. As the number of words increases, so does the price.
Your order will include academic proofreading, editing, referencing, formatting, plagiarism report, and free revision of the editing document. That's the tricky part. The editors actually offer comments, without really improving the essence of the content. For this price, you're not getting enough.
Discounts and Loyalty
PaperTrue doesn't have a classic discount program. You can get a free sample that shows the quality of the proofreading services, and we already complained about that part. This is considered to be an "extra" service that's included in the price.
But if you check the price calculator, you'll notice that the price doesn't progressively grow as you increase the number of words. For example, 250 words of editing cost $15, but 1000 words will cost $34. It means that you're getting a lower price if you need a larger project to be edited.
This is a good aspect of most PaperTrue reviews. The price is affordable as it is, but we have to consider it regarding the quality that the team provides.
Paper Quality
Once we saw the sample, we didn't really know what to expect from PaperTrue. We checked a few Paper True reviews, and we realized that the company didn't fully edit the papers that the students paid for. We were in the same situation.
We received a Word document with comments on the side. The editor fixed a few grammar issues and that was it. The remaining "editing" looked like this: "This sentence doesn't seem connected with the previous paragraph." Okay, it's not connected. But it's your job as an editor to connect it, not to give me hints.
Website Usability
The website is nice. It's clean, it gives you a final price without extra costs, and it makes the order placement easy.
The problem is that although it says that you're getting a "free revision of your edited document," you're still supposed to get an edited document, with improved clarity, style, and coherence. You don't. You only get comments like "this is not clear enough," but the editors don't bother to fix the issue. That's something that's not clarified on the website, and that's the biggest problem that we highlight in our Paper True review.
Customer Care and Support
The live chat works. We tried it a few times, and an agent was always ready to respond.
When we complained about not getting a good result from the editor, the agent said that they would forward the issue to a manager. We waited for two days, and we got an answer that the request was reviewed, and our requirement for a full revision was denied.
Conclusion
To wrap up this PaperTrue review, we're sorry to say that it's not the best editing service to hire.
The prices are affordable at first glance, but it turns out expensive when you realize that you're not getting the content fully edited.
The website is nice, and it's a good idea to offer dedicated editing/proofreading assistance. However, there are companies that deliver better quality. We would suggest EssayWritingLab.co.uk and AssignmentMasters.co.uk services as two of the best ones.