EssayAce.co.uk Review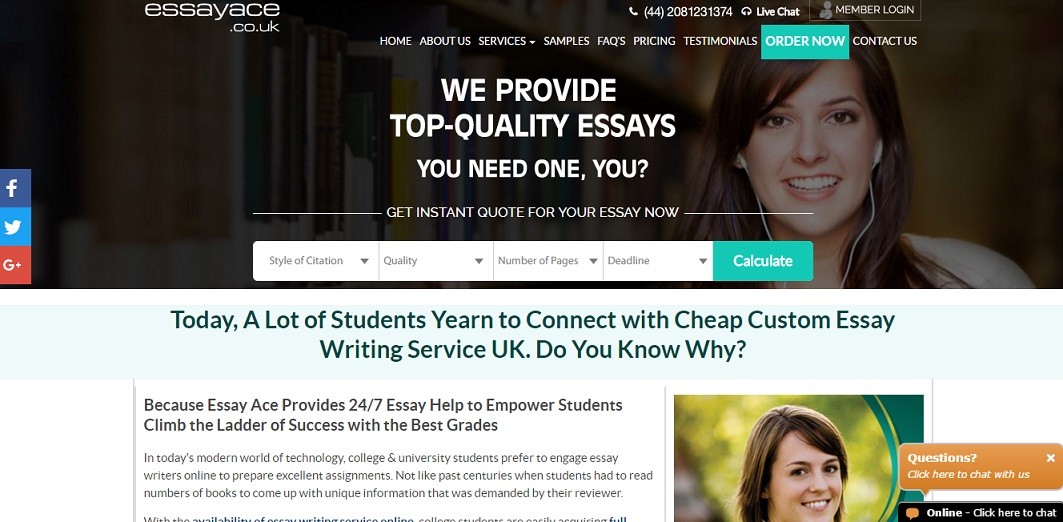 Quality

Prices

Customer Support

SUMMARY
'Climb the ladder of success with the best grades' – says the official website of essayace.co.uk. According to this website, the company truly understands the needs of students and helps them by providing quality papers for a reasonable fee. This all sounds perfect, but does the company stand behind all their promises?
EssayAce.co.uk promises its customers:
Expert and qualified writers
Superior quality papers
Free proofreading and editing services
Friendly customer support
Money-back and privacy guarantee
Scott Russell: They say they refund you if you do not like your paper, but this is not true. I had to send the paper for 2 revisions, got a horrible essay both times, and they still said 'send it for revision'. Students have deadlines, don't you know?

Shawn Whitworth: The pricing of essayace is good, but a definite NO for the papers. If you want to get a good one, order a month ahead and constantly ask for revisions. Maybe in that way, you will get a good paper.
Do They Offer My Paper?
At first, we got the impression that essayace.com offers only essays since these are the only options given in the Services page. However, once we opened the Pricing page, we noticed a claim: 'We offer all services at cheapest prices that are affordable for every student'. This was very confusing, which is why we decided to look a bit closer and see if they offer anything else.
The full list of services can actually be found on the ordering form. Here you have the choice of many other papers aside from essays such as term papers, research papers, articles, dissertations, dissertation chapters, book reports, book reviews etc. Generally speaking, the company needs to fix the information presented on their website. Otherwise, they do offer a wide range of services.
At What Price?
Prices depend solely on two factors: the quality of paper and urgency. From what we could see, there are no different prices for an essay and dissertation, which is a bit concerning. Therefore, it is best that you choose the Platinum quality for the high academic level papers since this would be the only indicator of the quality of writing.
The pricing tables are given on the Pricing page and start from £7.99 for a deadline of 10 days and range up to £19.99 for a 6-hour deadline. These would be considered average when compared to other services.
The discount policy is quite inviting, but only when it comes to bulk orders. Bulk orders come at 5% for 10 pages, 10% on 20 pages and 15% on 30 pages. However, if your order is smaller, there is not a single discount you can enjoy, neither a lifelong nor first-order discount code.
Is the Quality the Company Delivers High?
Since the paper was generally good, but had some mistakes in it and lacked references, we asked for 2 revisions on the content.
The first revision resulted in a paper that still contained mistakes and was badly referenced, while the second improved in terms of editing but not in referencing. However, the guarantee is in question since the representatives still denied our request even after the second revision.
What About the Customer Service?
The customer service works great and replied to our concerns about the paper promptly and effectively. We got the revisions the same day, but the fact that they reject complying with their promises of refund in case of bad content is very concerning.
You can contact them by online chat, form or phone line.
Conclusion
EssayAce.com is a company that comes with affordable pricing, but bad discounts. Except if you have a bigger order, this is not a place where you can enjoy a reduced price as a regular or first-time customer. Furthermore, the guarantees are very concerning, which makes us unable to recommend this service to students in need of quality papers.